George Wickham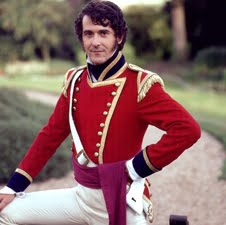 As you all know by now, he is the deliciously badly-behaved hero of my latest instalment of the Pride and Prejudice Continues series.
He's very interesting to write about and it has been challenging, to say the least. Mr Wickham is a lieutenant in His Majesty's army and, therefore, he cannot avoid being sent to France to fight against Napoleon's army.
So, who is he?
George Wickham is the Godson of Fitzwilliam Darcy's father, as well as the son of his steward. In
Jane Austen's Pride and Prejudice
he was an officer in the militia stationed near Meryton. However, in my continuation he is a Lieutenant stationed in Scarborough Castle. He lost both his parents at a young age, and was raised by his Godfather, growing up alongside Fitzwilliam Darcy.
Jane Austen
writes that he is a handsome man with "a fine countenance, a good figure, and very pleasing address."
Mr Wickham is a very charming man. He is an excellent conversationalist and has a gift for making friends. But, he is also immoral, a liar, and has who has no problem with using other people in order accomplish his own ends. He also has not qualms in ruining the reputation of any young woman who takes his fancy. (These traits make him a very interesting hero and such fine to write about!)
In
Pride and Prejudice
he threw away many of the advantages that he was given because of old Mr Darcy's patronage. Until his marriage to Lydia Bennet, he planned to marry an heiress. That never happened, as we know, and my book starts after approximately one year of his forced marriage to Lydia.
While Wickham is away at war, Lydia stays with her family. The two storylines are such a juxtaposition that it is fascinating to me that while war is waging, life in Britain carries on as normal as though they have no cares in the world!
So far, the book is going well. I know you are all looking forward to reading it and I hope to have the cover revealed to you all as soon as possible!
Thank you all for your continued support and God bless you! x