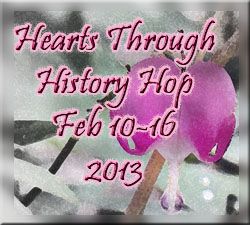 Welcome to the Valentine's Hearts Through History Blog Hop!
Hop from site to site and enjoy historical anecdotes and trivia tidbits about all things romantic.
Stories of old love, fascinating insight into love/courting/marriage and weddings from all over history await! Even better, each stop is offering a giveaway you can enter with just a comment, so hop away!
I am so pleased to be participating in the Valentine's Hearts Through History Blog Hop!
Courtship in Jane Austen's time... something you thought only your granny had done!
The subjects of love, courtship and marriage are a universal theme throughout all of Jane Austen's much loved novels. The couples in the books are always looking for romance, or so it seems. Their coming together was based on attractiveness, compatibility, and intimacy rather than being subjected to the arranged marriages of previous centuries for wealth, status and family advancement. Despite that seeming much as it is today, there were still heavy restrictions on a couple and they really weren't as free to court as might appear. Today the idea of courting is laughable, something that our grannies would do and we certainly wouldn't, even if we hanker after living in Jane Austen's time.
A woman of the Georgian, Regency and Victorian period had nothing better to do than to find a husband. And as we all know It is a truth universally acknowledged, that a single man in possession of a good fortune, must be in want of a wife.
Courting couples had to follow an established and inflexible etiquette developed over decades if not centuries to protect the woman's character and good name. This ensured her viability (yes, her virginity and purity was a commodity) on the marriage market but obviously this made courtship very difficult . To us these restrictions on unmarried girls/women limiting their private conversations, correspondence, and prohibiting touching seem huge barriers to the pursuit of love. I am amazed that anyone could fall in love under such circumstances. How did they ever get to know one another?
It was unacceptable for a lady to acknowledge a man's attentions apart from the accepted forms of observed behaviour. That means no flirting! What would we do today without flirtation? A lady who did succumb to any enthusiasm or awareness of a gentleman's intentions was inviting ridicule and herself becoming a subject of mockery and derision. Huh? That's most of us discounted then! ;-)
So the Rules and Prohibitions of Courtship are...
Formal means of address
(Mr, Miss etc. I can't imagine my husband having called me Miss Coles for all those years before our marriage!)
Discreet conversation (I don't think we know how to do this at all these days)
No intimate touching
No correspondence (No love letters? No poems? No Valentine's? Surely this must have been the most frequently broken of all the rules.)
No gift giving (not even on a birthday? Does this include flowers? I think Jane Austen broke most of these rules in her novels too, eh?)
Formal means of address
Forms of address even amongst family members were very reserved. Even married couples would address each other formally in public just like Mr. Bennet and Mrs. Bennet do in Pride and Prejudice. Outside of the family the use of Christian names would be used only to distinguish younger siblings. For example; Miss Bennet (meaning the eldest sister, Jane) and Miss Elizabeth Bennet etc. in Pride and Prejudice. Addressing anyone by any name other than their surname was to denote an inferior rank such as servant and was also used for a child.
Conversation and Physical Contact
Young and unrelated unmarried men and women were not allowed to be left alone in the same room together. Any interest, however small that was shown in public would be misconstrued as marital intent. Conversation was therefore very discreet and any secret meaning had to be conveyed and interpreted (or misinterpreted as in Emma) by facial expressions. (blushes, stares, smiles, frowns, and tears) This, I assume is why in the Georgian period there was the 'language of the fan'.
Shaking hands is something that we do all the time was actually a sign of intimacy in Jane Austen's time. Then a greeting was a slight bow of the head or curtsy. (Very friendly, I'm sure.)
However, all was not lost. There was of course dancing and walking. Dancing was an important socially, and couples could come together, talk, and even, shockingly enough, touch. The intricate steps of the favoured country dancing allowed for hand holding. The couple could also conduct a somewhat private conversations while being watched closely by those sitting around the dance floor.
Young couples could also have taken chaperoned walks in the countryside. If a couple wanted to speak they could fall behind the others for a little chat. However, to me this seems rather obvious and I am sure gave rise to speculation about 'a certain upcoming, happy event' ;-)
Correspondence and Gift Giving
So, no talking, no letter writing and certainly no giving of gifts. This was seen as far too personal. Any of these things generally meant that an attachment had been made, so it was carefully avoided unless the couple were in love. In Sense and Sensibility, Elinor Dashwood assumes there is an attachment, between her sister Marianne and Willoughby because Marianne has accepted a gift of a horse. He was also given a lock of her hair, and she wrote openly to Willoughby while in London. "Such conduct made them, of course, most exceedingly laughed at; but ridicule could not shame, and seemed hardly to provoke them"
The Marriage Proposal
When a young man was quite sure that the object of his love returned those feeling he needed to seek a private moment to actually ask for her hand. I have no idea how he ascertained this without speaking to her many times before. The easiest and presumably most acceptable way to go about this was to ask the permission of the lady's father. His intentions were made clear this way and an appropriately private setting could be arranged. Perhaps this is why many women were married against their will to men they didn't love if their father's said yes for them.
I am sure that not all proposals were welcome. Etiquette dictated that it was bad form to encourage an attachment if one didn't exist. The gentleman had to be turned down but with a sensitivity deferential to the man's feelings. (Is there a nice way to say 'no'?)
Once a proposal was accepted and parental consent was obtained to break off an engagement was considered a huge no-no. An engagement was seen as a binding contract. A gentleman was not permitted to break an engagement and a lady could only change her mind after careful consideration.
After all this, I am surprised that Jane Austen managed to get any of her heroines married at all. And I am certainly not surprised that she broke more than a few of the rules in order to get them to the alter too!
How would you feel about being restricted by those rules of Courtship?
I am giving away 2 e-copies of Charlotte - Pride & Prejudice Continues and 2 e-copies of Relative Deceit.
To win simply answer this question by leaving a comment below... (the answer is in one of my previous blog posts)
According to Emma Thompson's 1995 version of Jane Austen's Sense & Sensibility, which of Shakespeare's Sonnets brought the love-struck Marianne and Willoughby closer together?
(Answer by leaving your comment below)
Thank you so much for stopping by. Happy Valentine's Day and good luck with the giveaway!
Other Hop Participants.